Catching a glimpse of reading's future at the Book Expo.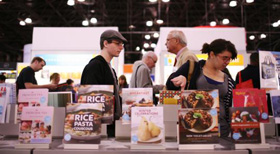 NEW YORK - Book publishing and reading are clearly amid sweeping transition. The industry has been struggling with sagging sales and is looking for cheaper and more efficient ways to deliver content to readers who want more flexibility in how they buy and read, whether on paper or a handheld device.
Nowhere was this more apparent than at the Book Expo America, the publishing industry's annual trade show, held last weekend in New York. A stroll around the convention offered a hint of what the future may hold for the industry as well as for book lovers.
At the gathering, industry insiders vowed not to repeat the mistakes of the music business. One said the recording industry shot itself in the foot by not releasing singles in compact-disc format, accelerating the shift to downloading. Being more flexible in its online offerings might spare publishing from the same fate.
Michael Roux, senior publicist for the University of Illinois Press, used to handle publicity for independent record label Parasol. He said publishing is looking into making chapters available online, targeting penny-pinching students wary of paying to download a whole book. He also said business for his publishing house has been flat this year - which is good. Sales for most university presses are down 8 to 10 percent.
This is not to say that book publishers see their futures as completely online. Most agree that for the foreseeable future the offspring of Gutenburg are not destined for extinction.
Wired editor Chris Anderson, who was promoting his new book, "Free," quipped that the book is a "format" with "long battery life" and "high screen resolution." Anderson, who came to prominence with "The Long Tail," his book about selling less of more online, suggested books will survive in various forms.
How those forms nurture each other commercially is the main issue.
"Publishers are making the adjustment to the fact that they are content providers, not print producers," said Lance Fensterman of Reed Exhibitions, who coordinated the Book Expo. "They're trying to understand distribution, monetization, and copyright protection" in a field straddling printed books, or p-books, and ones online, or e-books.
These are rough times for book sales. First-quarter sales at Borders fell more than 12 percent from a year ago to $641.5 million. At the same time, Borders Group generated a first-quarter operating loss of $15.9 million, an improvement over the $30.5 million loss in the same period last year. Overall, sales of adult titles decreased 2.3 percent from 2007 to 2008, according to Book Industry Trends.
Everywhere at this year's Book Expo there was talk of the growing importance of portable readers like Sony's Reader Digital Book and Amazon.com's Kindle, which created a lot of buzz this year with the release of an upgraded model that has a larger screen and is more suitable to newspaper and textbook reading.
Currently sales of digital books still represent only 1.6 percent of book industry revenue, according to the Association of American Publishers. But consumer interest is clearly growing, with first-quarter sales rising 131 percent over last year.
The digital upheaval is not just affecting how people read but also how they buy. One first-time vendor at the show was Symtio, a "bridge between digital media and traditional bricks-and-mortar retail" that began in October. According to Tim Close, Symtio senior vice president, it's an alternative to Amazon, which with its Kindle reader represents a "closed marketplace." Users can buy its e-books only at the website.
With Symtio, consumers can purchase e-books or audio books either online or at participating stores. "What we are is a way for a publisher to get mass distribution of their book across a whole lot of different channels," Close said. Symtio distributed various children's book "e-galleys" for its parent, publisher HarperCollins, at the show.
One galley that seemed to exemplify several trends was for "Level 26," the first "digi-novel" from Anthony E. Zuiker, scriptwriter for the television show "CSI." Subtitled "Dark Origins," it's coming out from Dutton in September. Every 15 to 20 pages, Zuiker tells the reader to log into level26press.com to access a "cyberbridge" video that builds off the printed product.
"Level 26" is an intriguing twist on the notion of adding value and extending a brand, a way to multi-market that bridges traditional and experimental. If it's a hit, it will create social networks of its own. Even if all it does is spawn a cult, cults these days, spiked by the chatter of social networks, can quickly become markets.
Whether in print or digital form, books will continue to be about content. And publishers at the expo gave visitors a preview of coming attractions. Among advance reader copies given away were Pat Conroy's "South of Broad," due from Doubleday in August; Richard Russo's "That Old Cape Magic" (Knopf, August); Dan Chaon's "Await Your Reply" (Ballantine, August); Pete Dexter's "Spooner" (Grand Central, September); and the graphic novels "Stitches," an adult memoir by children's book illustrator David Smalls (Norton, September) already generating buzz, and "Logicomix," a biography of philosopher Bertrand Russell by Apostolos Doxiadis and Christos Papadimitriou (Bloomsbury, October).
Nonfiction by Tracy Kidder, political commentator Joe Scarborough, columnist Gail Collins, and talk show host Craig Ferguson also was highlighted, as was the upcoming book by Captain Chesley B. Sullenberger III, the hero of the crippled US Airways plane he landed in the Hudson River in January without loss of life.
Carlo Wolff is a freelance writer from Cleveland.
Read the article at the Boston Globe website here.